Take Our Online Traffic School California Course Anytime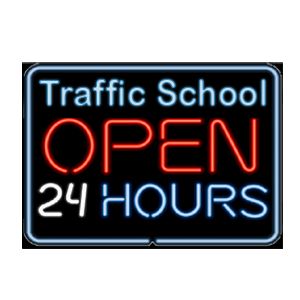 We never seem to have enough time these days. Between work, school, family, pets, hobbies and sleep, free time has become a hot commodity. Attending traffic school when you get a ticket can seem like just another thing you don't have time for. Luckily we offer a traffic school course that works around your busy schedule. You won't have to cancel appointments or stay up late at night to stress about finishing your traffic school requirement. Our program is available completely online and is the easiest, most hassle-free way to keep points off of your driving record. Continue reading to see how our course can work for busy stay at home moms, working professionals, college students and YOU!
Stay at Home Moms
If your full time job is taking care of your family, we salute you. Between cooking for the family, cleaning the house, caring for the kids, helping with homework, driving to practices and helping with projects, it's hard to think about adding anything else to your day. When Monica got a traffic ticket she wondered who was going to do her job while she spent a day in traffic school. The answer? She was! Monica did a little research and found out how convenient our course could be for her. She couldn't believe that she could do a little while the kids were at school and then start again after she picked them up without losing her progress. When she had to spend an hour at soccer practice she took her traffic school to go and worked on her tablet. Monica finished her course in one day without having to give up time with her family. Best of all, she learned techniques to help her be a safer driver and keep her family safe while on the road!
Working Professionals
Mike loves his job. He was rushing to a meeting one day when he got pulled over for tailgating the car in front of him. Most people in his situation, especially with his busy schedule, would be a little stressed out. Mike, however, was familiar with our easy online course and knew that completing traffic school would be a piece of cake. He signed up for a great price and planned to finish by the end of the week. He worked on the program from his office while waiting for files from coworkers and while watching TV at home. When he had to take a short business trip his colleagues were impressed that he could take his traffic school to go and work on it at the airport, on the plane, and in the hotel. By the time Mike returned from his business trip his traffic school proof of completion was already submitted to the California DMV. Mike told everyone he spoke to about our great program, even informing some out of state associates that we also offer 24/7 defensive driving for their states!
College Students
Stacy is a busy college student. She juggles a full-time class schedule and a part-time job. Most of her free time is spent working on homework. When she received a traffic citation for speeding on the way to class one day she was worried. She didn't have a whole day to give up for traffic school, but really couldn't afford her car insurance rates to rise due to the ticket. Luckily Stacy's sister told her about our Quick and Easy online traffic school program! Stacy was able to work on our 24/7 traffic school online whenever she found time in her hectic schedule. Between classes she would get a little bit of her course done in the school library. On her lunch break one day she got a whole chapter done because she was able to take her traffic school to go on her Smartphone. After she finished her homework one night she completed the rest of the course in a short time. In just a few days she was finished with the course, her proof of the completion was submitted to the DMV, and she could rest assured that her driving record would remain clean and her insurance rates would not increase. Best of all, thanks to our convenient online traffic school course, she did all of this without changing her schedule one bit! If a busy college student can do it, so can you!
You
I'm sure you have realized by now how convenient our course can be. Having access to 24/7 traffic school online is just what you need to complete your requirement without altering your life. Even if you don't live in California you can still take your traffic school to go by signing up for one of our 24/7 defensive driving courses for states like Texas, New York, Arizona and more! Enroll Now to see how convenient our 24/7 traffic school online can be for you!