History of Traffic School in California
Traffic school in California has come a long way from stuffy and boring classrooms that took over your whole day. Advances in technology have allowed traffic school to become an easy, convenient, educational experience that is no longer feared and avoided at all costs. The following will recount the evolution of traffic school and discuss how it has come to be as it is today.
Traffic School Classrooms
In the 1980's, the early days of traffic school, traffic violators were required to attend classroom courses. These classes were usually held in hotel conference rooms or school classrooms on weekends. Since California traffic school is an 8 hour course, this usually meant giving up an entire Saturday or Sunday, or, splitting it up over two or more weekends. Typically, the courses were either taught by wannabe comedians or retired CHP officers; regardless, they weren't very fun. Ask anyone who attended one of these early courses and they'll tell you that they were happy to see traffic school begin to change.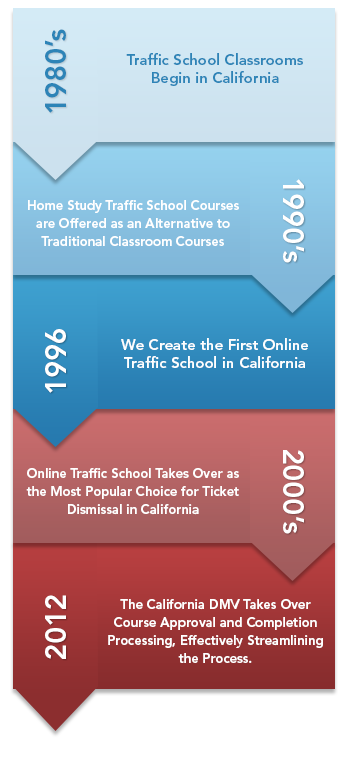 Home Study Traffic School Programs
Realizing that people needed more convenience in their options, a few courts in California approved "home study" courses in the 1990's. These courses allowed offenders to complete traffic school on their own time, in their own homes. Options included workbooks and video courses that covered the same material as their in class counterparts. Soon, these alternate options were offered all across the state and the traffic school world had grown a lot more user friendly.
Online Traffic School
With the explosion of computers and the internet, it's no surprise that online traffic school has taken over as the preferred option for masking traffic tickets. Online traffic schools offer an ease and convenience that is unparalleled by any of the other choices for traffic violators. Our company created the first online traffic school in Los Angeles county in 1996 and we've continued to evolve ever since. The first traffic schools online were less advanced than what we have today, although the technology has grown immensely since then. Now, our online traffic school course is accessible from almost any device with internet access, meaning you can work on your course on the go. You are able to log on and off as you please and the course will automatically save your progress. This is helpful for anyone who has a busy schedule and can't complete the course all at once. Of course, for those who can, the option to log on and complete the course in one quick sitting is very appealing. The program is full of images, animations, and videos, and is as engaging as it is educational. Traffic school has definitely come a long way!
California Traffic School Approval
One of the most important aspects of selecting a traffic school is their approval status. California traffic school approval has undergone changes in the past few years, most notably, changing from a court system to a DMV system.
California Court Accepted Traffic School
Each of California's 58 counties has its own superior court; which originally meant that they also set their own traffic school processes. Online traffic school providers had to acquire separate approvals from each county and certificate processing was different depending on which county you received your citation in. This made the process quite complicated for course providers and traffic violators alike. Luckily, in early 2012, the DMV began a change that would make California traffic school even easier!
California DMV Approved Traffic School
In an effort to consolidate the traffic school system, the California DMV decided to do away with all of the differences in county procedures. Their changes have made it so that traffic school course approvals and completion certificates processed directly through the DMV itself. All course providers are required to acquire approval from the DMV by March 1st, 2013, or they will have to stop conducting California traffic school business. If you're looking for a traffic school course, ours is California DMV licensed!
Traffic school has been evolving since it was first introduced and will always continue to do so. Thankfully, you can rest assured that we will continue to change and progress with the times to offer a quality and superior product to you, our valued customers.
First Online Traffic School In California