Traffic School California Course: DMV Is Now In Charge!
The California DMV Takes Over
Beginning January 1st, 2013, the California Department of Motor Vehicles officially began overseeing operations, approvals and completion processing for all traffic schools in the state. With this change in place all online traffic school providers must secure new approvals directly through the DMV. This also makes completion processing a more streamlined process than it was when dealing with the 58 individual superior courts.
Before this change, online traffic schools were approved by and communicated directly with the different county superior courts. This made for a very confusing process for drivers who needed to complete a CA traffic school course since the requirements differed from county to county.
There were three different agencies in charge of processing completions before the change. Depending on which agency the county used for processing, the traffic school process was different. The three agencies in charge of processing traffic school California completions were:
National Traffic and Safety Administration (NTSA)
California Traffic Safety Institute (CTSI)
Coordinated Court Systems (CCS)
Each of these agencies had different requirements regarding submission, verification, testing and timing. Now that National Traffic and Safety Administration (NTSA) and Coordinated Court Systems (CCS) are no longer involved, the online traffic school process in California is much smoother. California Traffic Safety Institute (CTSI) continues to assist the DMV in the CA traffic school world by monitoring licensed traffic schools and ensuring compliance. If you recently received a citation you'll want to make sure that you register with a licensed DMV traffic school. California drivers can Click Here to learn more about our DMV licensed program.
Traffic Violator Schools
When the DMV took over operations of traffic school they began to call it by an unfamiliar name: Traffic Violator School. Although the name has changed, the program hasn't changed much. In fact, many people find CA traffic school much easier now. With approvals issued for the entire state and certificate processing all handled electronically directly through the California DMV, taking care of your traffic ticket is easy and hassle-free!
Completing a traffic violator school program will benefit you in a few different ways. First, it will keep the evidence of this citation from appearing on your driving record. Since your auto insurance provider won't be able to see this citation, your insurance premium will not increase as a result of this ticket. Lastly, you will find yourself driving safer and with more confidence. Traffic violator schools in California cover topics that affect drivers in our state, including: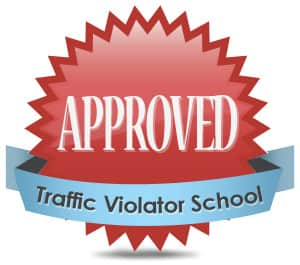 Recent Changes and Reasons for Traffic Laws
Careless Driving and its Consequences
Operator Responsibilities
Rights and Responsibilities of Pedestrians
Driving Maneuvers
Defensive Driving
Collision Avoidance
Aggressive Driving and How to Avoid It
Driver Distractions
The Vehicle
The Road
Before you attend a traffic violator school you'll want to make sure that you are eligible to attend traffic school. California eligibility requirements for the program are as follows:
You must have a valid driver's license
Your citation must be for a moving violation classified as an infraction
You must not have taken traffic school in the past 18 months
You must pay all applicable fees to the court
If you have a commercial license you must not have been cited in a commercial vehicle
Your courtesy notice should indicate that you are eligible
If you meet the eligibility requirements for traffic school California you should Sign Up Now for our DMV licensed program and keep your driving record clean!